Gulu- Babies and an old lady
Abaana's work in Gulu is probably the most front line in the fight against poverty, disease and oppression that we have been involved in to date. I have traveled to Gulu twice and have been overwhelmed each time. On the last trip I we drove through one of the camps, and stopped to give out some babies clothing. Most of the mothers did not even know how to dress their babies who were wrapped in scraps of blankets or towels. I had the privilege of dressing a three day old baby. It was hard to see what future it had living in such poor conditions as many children die before they reach five.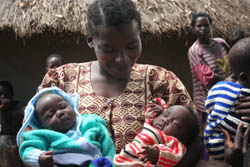 I noticed one elderly lady who was standing alone. Her face was disfigured and she looked very sad. Her name was Agata Auma and she was 70 years old. A miracle in itself in a country whose average age is around 50. I called her over and asked our guide to ask her what happened. She said that she had cancer, and it started to eat away at her face. She went to the doctor and was sent to several hospitals, but eventually could not afford the treatment, which would have cost 50,000 shilling (app £15/ 30$). To this lady, a lifetime's money.
So she returned home, and the cancer started to eat her face. First her upper teeth feel out, and then she lost sight in one eye. It started to eat her nose, to a point where there is now a gap between her upper lip and nose. She says that when she eats, her food comes out of her nose. My heart was breaking and although I knew it was too late for this lady to get treatment, I gave her 60,000 shillings. I didn't know if she would spend it on medical needs. I didn't care. I did it because she should never have been in a situation where she could not get access to treatment. I didn't know how long she would live or how she would use the money but I hope that it in some way it makes her life easier. I hope that in this small act Christ was shown to a lady in need. I think she smiled at me though her disfigured face never changed. I think I saw it in her eyes. Through the translator she said that she would remember me always.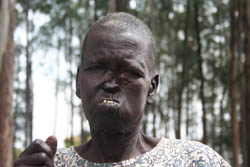 On the way out of the camp, we came across a girl lying on the road. She was shaking and her legs were tied together. She was having an epileptic fit. Her legs were tied so that she would not walk somewhere where she could hurt herself. In the middle of the fit, a man grabbed her arm and dragged her along the dirt track out of our way. I felt so mad that this young girl had not been allowed to finish her fit and was pulled so crudely for our convenience.
I wish I could let all our donors, all our supporters and everyone who prays for Abaana, see the people that we can reach like Agata in Gulu. If you have ever donated, prayed or volunteered, I wish you could have been there to hand that money into the hands of that lady, for that is why Abaana exists. To bridge the gap between people like you and people like Agata. To show them we care and show them God's love.
Scott Baxter
Scott is taking part in a sponsored diet to raise funds for the children and womena in Gulu. If you would like to sponsor him, visit:
www.childrenofafrica.com/scott
Date Added: Monday February 19th 2007