Ballyrashane 2014
As a newly qualified secondary school teacher I was interested in learning more about the education system in Uganda and finding out how the Abaana schools are progressing and developing.
Over the course of the two weeks, both myself, and my friend Zara who is primary school trained teacher had the opportunity to visit six of the Abaana schools. Zara and I spent time with the teachers and held informal chats with them to exchange ideas and advice on good teaching practice.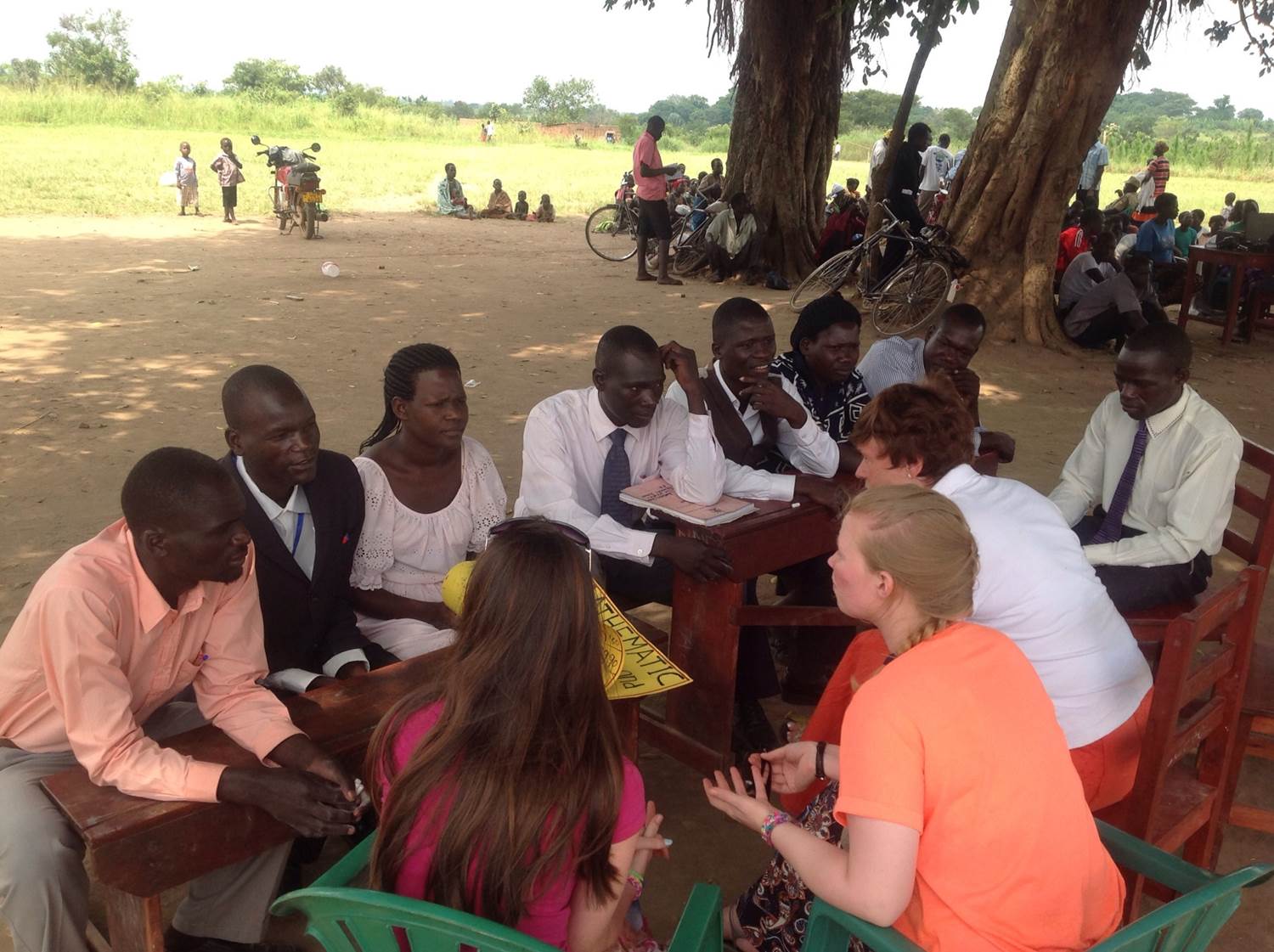 The first school we visited was Buyobe, where the team helped to build a new kitchen and paint classroom blocks. The school was really friendly, and each child seemed happy to be there. The principal Geoffrey and his deputy Alex are dedicated to their work and displayed a great deal of care for each child. The school does not have much, but makes good use of the resources it has. The teachers have a difficult job in trying to teach the curriculum with just one textbook per classroom but they ensure that each child receives a good education. Zara and I left them some 'homemade' mini – whiteboards to trial in their classrooms to encourage active learning and student involvement.
Next we visited Christ the King, a place which holds fond memories from our visit in 2010. We were delighted to see that the school now has many teachers who are fully qualified. Each class has an assigned classroom and the teachers make good use of their resources. It was clear that the children were happy and that they were receiving a good education. The boarding building which we built in 2010 is in full use with no free beds in the boys section and only two in the girls, ensuring that children who would normally have had a long treck to school can now focus on their school work and receive support from staff after school hours.
Next on our itinerary was a visit to three schools in Gulu in the North of Uganda. This region is much poorer than the southern regions due to the lingering effects of war.
Coorum Tekwii– situated in the middle of the countryside, still consisted of old mud shacks for buildings. When the bus pulled up, the children stopped what they were doing and all knelt to the ground in complete silence. They all looked a bit scared as they are not used to seeing 'muzungus'. We were shocked to see children running around with hardly any clothes on and some children as young as four or five had brought their baby brothers and sisters to school and were carrying them on their backs. There were no desks in the classrooms and the children all crammed in wherever they could find space, as many as 60 children in one compartment. It was a bit of a shock and very different to the other two schools we had visited. The teachers were very friendly and it was clear they worked hard to provide a good education for the students but this is an extremely difficult job when they have little or nothing. I am delighted to hear that Abaana has started to build classroom blocks here which will make such a difference to the school and community.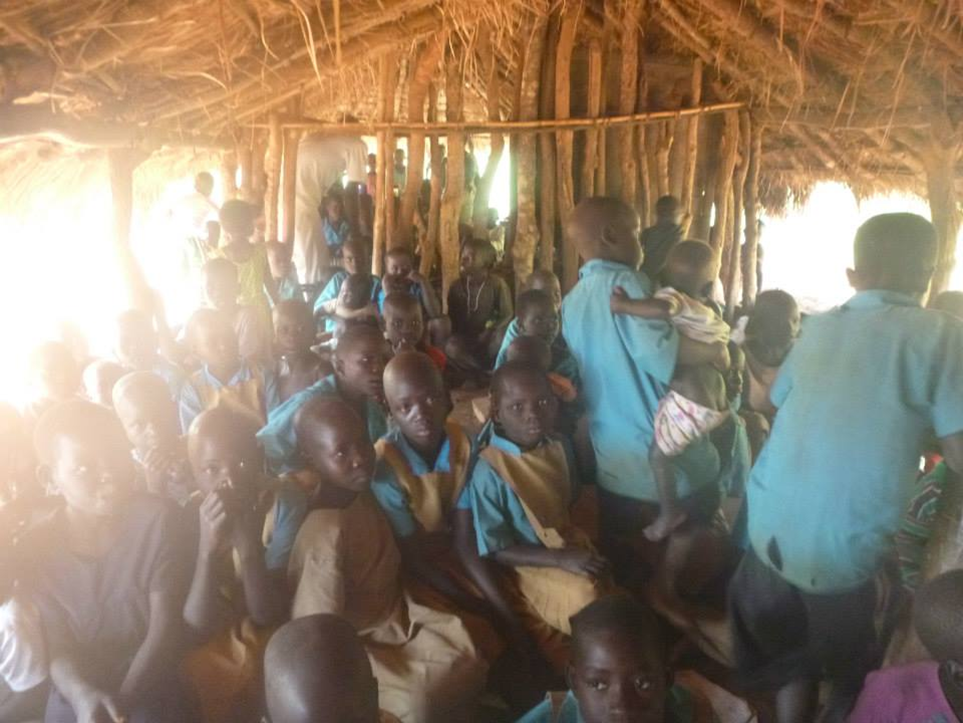 At Ayila we were welcomed by most of the school half way down the lane and they sang and danced for us. It was a wonderful atmosphere and great to see happy faces. This school has three classroom blocks and yet again the teachers have made good use of the resources that they have. Some even spend the little personal money that they have to purchase paper and pens for display material. Ayila is just starting to find its feet in terms of developing and improving the education it provides. It has more work to do in order to reach the same standards as some of the other schools but from the chats we had the with the teachers, we know that the staff are willing to put the work in to improve the school and have asked for us to pray that the community will also provide more support to help keep this school going.
The last school we visited in Gulu was Dr Andrew McAvoy. It was pouring with rain but the children were outside ready to welcome us and we felt guilty sitting in the bus waiting for it to stop as if we had never seen rain before. It was lovely to see that the school had great support from the community and that the children were receiving a good education from well trained staff. Again resources were limited but the teachers used their creativity to keep lessons fun and maintain student attention.
The final school we visited was Strathern. This is probably the most developed of the Abaana schools as it does have electricity. The school is well equipped with desks and uniforms for each child. Zara and I were very impressed with their colourful classroom poster displays and how the teachers were using many different teaching strategies to help these children learn. They use their resources effectively and ensure that each child has the opportunity to learn in a happy environment. This school also has the luxury of a play area which provides fun outdoor activity. It was great to see smiley faces on swings and slides.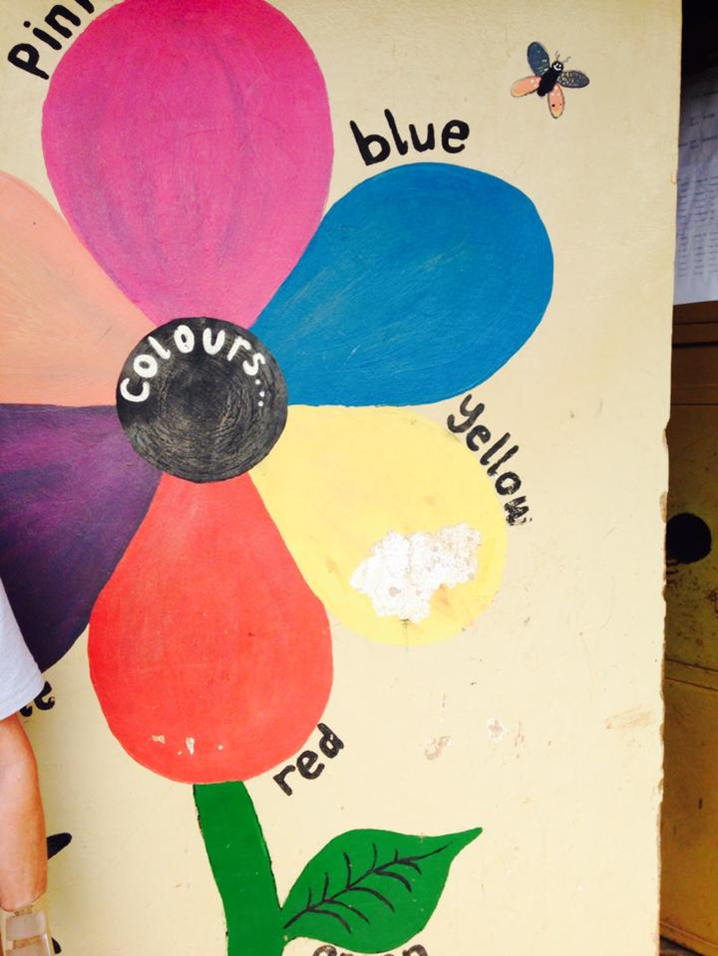 Overall we had a fantastic trip and it was great to see the difference that education can make to children's lives. For many of the children, school is a place where they can come to learn and take steps towards achieving their own individual goals. The Abaana schools are doing an excellent job and I am excited to see how each one will continue to grow and develop. I ask to you to remember all the Abaana schools in your prayers. Remember the teachers and pray for the local communities and please do continue to support this work as it is so worthwhile. Strathern's vision says it all– "Giving young ones a future of a lasting smile through education"